I normally write a hundred pages of worthless notes every two to three weeks. Ninetyfive percent of my writings are about video games. I have often wanted to attempt to review games from all platforms because thats what kind of gamer I am. I don't care if the PS3 has blu-ray. I don't care that Microsoft packs in an HDMI cable with the unit now. What I care about is the quality of the experience I am having once I am behind the controller.
Or keyboard! I began my gaming career like most mid-thirties enthusiasts. I had an Atari 2600, I had a NES when I was thirteen (albeit a couple years after everyone else had one...), and I recall my Christmas present one year being the all new Super Nintendo and a slick copy of F-Zero!
Further down the road I used some of my wedding gift money and bought the PSOne, and a handful of games. That trip to the mall cost me $600! And then I discovered the PC, its power, and its potential to become my new favorite gaming platform. And it did. A year solid of Aliens vs Predator 2 turned me into a vicious FPS god! I also raced, and raced somewhat successfully online in the ASRL (American Sim Racing League).
A new console was my two sons gift of choice for Christmas one year. I wanted them to not have to ask for the damn thing three years in a row, so I plunked down the cash and we had once again had a gaming console sitting near the TV. This wasnt an ordinary gaming console, this was the PS2, and not only could the boys play video games, but my family had just bought their first DVD Player!
The boys didn't take care of the good ol' PS2. They used the tray to slice bananas one day, soon rendering the box useless. I didn't mind. The damn thing pissed me off more times than not. Try playing an FPS with a controller after mopping the floor with enemies left and right with your trusty keyboard and mouse setup! I was able to restrain my emotions, but I know of other people that downright toss their controllers off the wall repeatedly as if to try to convince the thing that it's high time that fucker start performing!
And then it happens. It only happens to the poorest of us gamers. The inevitable need to upgrade your PC to play the latest games. How many titles do you buy that wont run at 20fps with the graphics set to LOW before you have had enough? Once I had enough, in December of 2004 to be exact, I did what I never before thought possible. I bought an Xbox. I bought Halo 2. I couldn't pass on Ghost Recon 2, for I had played the first one on my PC!
I fought the controls on Ghost Recon 2 for a few weeks until one night while playing some Last Man Standing (my favorite GR2 solo gamemode) I realized I had become competitive ON A CONSOLE!?! I hadn't touched the PC in a while. I was counting the days to Xbox game releases! I was having fun and I wasn't needing a new $399 Graphics Card and 4 more gigs of RAM. I was ready to go, no matter what they threw at me!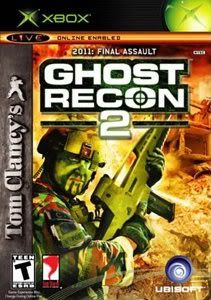 But PC Gaming is where my hearts at. I don't own a super computer, but I can play some titles with good detail with good performance. At this writing I play to go full out next February on a new gaming PC. My fingers are crossed.
Besides the PC, I still have that 2004 OG Xbox. Since then I've added an Xbox 360 Elite as well as a Sony PS3 80gb BC model! I snapped up a slim PS2, a used Nintendo Gamecube, and was given the gift of a PSP model 1001. I am a gamer nerd. Occasionally I may post some non-gaming topics here as I do have other interests that I think some people may wish to read about. I hope you enjoy this adventure of mine. Feel free to leave comments or send an email, I'd love to hear from readers their opinions on topics as well!
Until next time...
Rob