So this past weekend my buddies Josh and Randy and I went to Bristol Tennessee to see the Nationwide Series as well as the Sprint Cup series races! My first NASCAR event since Michigan in 2003, basically, a long fucking time. And whilst there, I took several photos of what I thought was pretty HAWT! With permission from my wife, I bring you, "Babes of Bristol"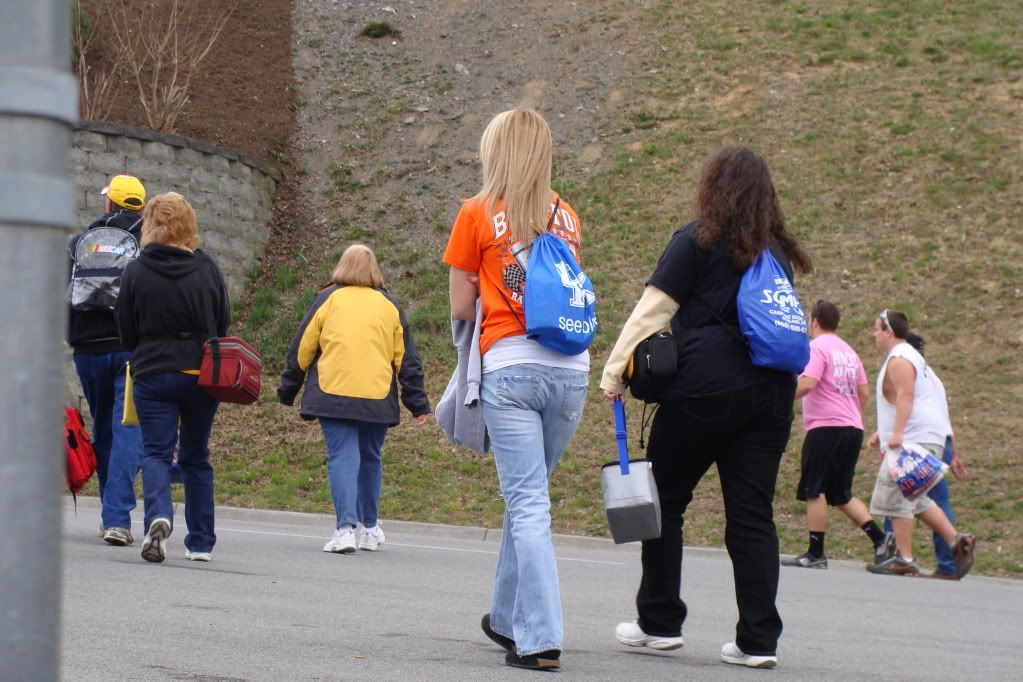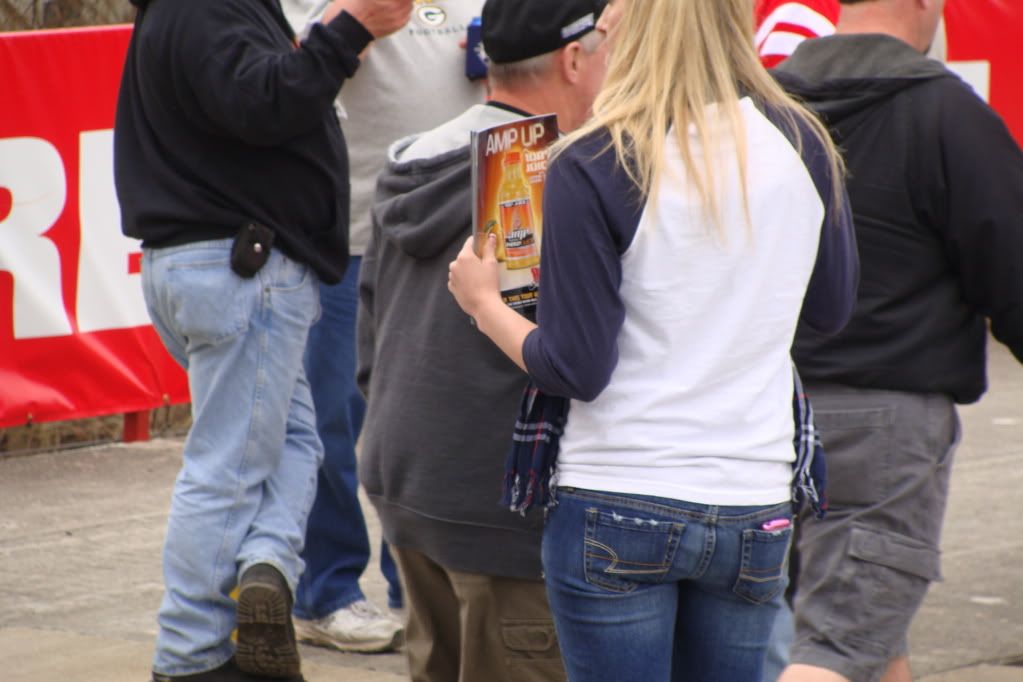 Saving the best for last, this chick is Susan. She quite possibly saved one of my buddies lives on two occasions. This is a fact. As we were walking back to our ride parked about 1 mile from the track over a gravel path made out of rock that was pointy like fucking little daggers. My all blue Chuck Taylor's couldn't handle too much of the sharp golf ball sized rocks and I was getting blistered from the shit!
Randy, who is a little out of shape and a bit overweight but not fat by any means really, was having an honestly hard time negotiating the hilly, rocky, not to mention lengthy terrain. And that is when Susan drove by us on her little red golf cart.
Josh yelled at her, something like, "Hey, can we get a ride?". And she, about 30 foot passed us easily, slammed on the brakes, and proceeded to come and pick us up. She drove us all the way from the Rusty Wallace Terrace elevator to the bridge just before the short walk to our parking spot. We tipped her, and I can't remember who asked her if she was working the next morning and if we could give her our phone number to call us and give us a lift again. Well, the innocent southern cutie as I like to call her offers up her phone number to us instead!?
O.K. whatever than, we take the number down in my mini trip notebook (yea I'm that mental). Went out to dinner that night, then saw some titties at the "Mouse's Ear", and got really about as stone cold drunk as I have been in along time, without the barfing even!
The next morning, Sprint Cup race day! We get a late start and don't get to the bridge where Susan dropped us off the night before. Josh calls. She answers. She is more than happy to come get us and drive us to the Rusty Wallace Terrace elevator, but first she had to drop off a group and then she would be on her way.
While waiting for her I took the pictures of the chick with the nice keyster selling programs. A couple of other hotties strollin' by, the usual. Even have a video of one walking for about ten seconds. Is this sounding psycho madman weird? I hope not...
Anyway, I had just missed Joe Fucking Gibbs ride by because I had been mesmerized by the rump on the program sales babe! And then Susan pulled up, like she said she would the night before. I snapped the shot of her, and we jumped on the rickety, although covered, golf cart for today's shitty weather!
Anyhow, we gave her another nice tip that they weren't supposed to take lol, but it was well worth it. Randy got to take it easy, hell, we all had it easy at that point. So us three would like to thank her for that, and to also include her obviously in the "Babes of Bristol" blog!
Nothing rude right? If any one out there knows these chicks and they don't want them posted then let me know!
I never said it was total boner material or anything, but I am not a photographer like my wife. Half the time I see a hottie by the time the photo op is there, I'm still fumbling with the camera bag!
I'm a little tired right now and yet I have to make a soda run since Cyn is off to bed. If I cared to, I'd proofread the stuff but I don't really care to honestly.